Ukraine Focus is thrilled to announce the signing of two Memorandums of Understanding agreements (MOU) with both the Territorial Defense Forces and the Ministry of Veterans Affairs. These MOUs will strengthen our partnerships and mutual commitments to support Ukraine's Patriots and Veterans. We stand together, united in vision and purpose, ready to honor, serve, and uplift those who served and continue to do so.
---

To provide humanitarian and medical aid to Ukraine using a needs-based, fully transparent approach ensuring the help gets directly to those that need it most.
Our Focus is on the Freedom and the Future of Ukraine.

Brock Bierman
Ukraine Focus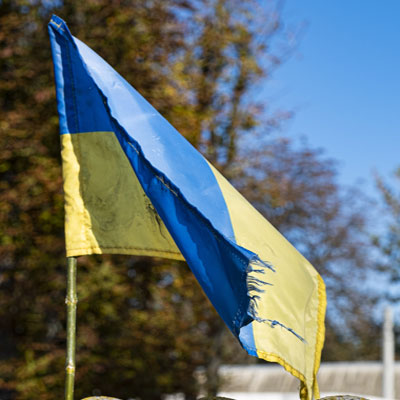 Transparency
Our donors know exactly how their funds are bring used and see first hand the impact it's having.
Accountability
The aid we provide is directed to those who need it most and delivered on a needs based priority through strategic partnerships at all level of government and nongovernmental organizations.
Community
Everything we do is focused on strengthening the Ukrainian community with specific emphasis on communications, collaboration and cooperation.
Partnership
We have relationships with the highest levels of government as well as local organizations on the ground and around the world.
Glowing Face of Refugee Warms Ukraine Focus Donors
Donors seldom get to see their gifts put to work, but that was exactly the experience my wife and I enjoyed after providing funds to ship ambulances, children's clothing, food, and solar-powered lamps to Ukrainian refugees. The continuing Russian invasion of the eastern European nation has sent thousands of civilians fleeing their homes, slaughtered regiments of soldiers defending the country, and destroyed the electrical infrastructure plunging the nation into darkness.