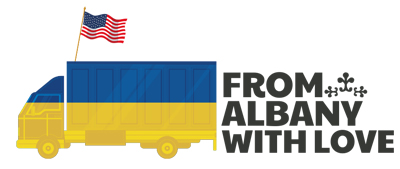 Bucha, a place that holds a special place in our hearts, faced the unimaginable tragedy when Russian forces invaded Ukraine on February 24, 2022, leading to the devastating Bucha massacre. The people of Bucha have endured hardships that are difficult for many of us to comprehend. However, in the face of adversity, hope and resilience shine brighter than ever.
We are launching the Albany-Bucha Rebuilding Initiative, a heartfelt mission to provide Bucha with the essential tools, resources, and unwavering support it needs to rise from the ashes and rebuild stronger than ever before. Your contribution can be the beacon of hope that lights the path to recovery for this remarkable community.
Bucha now stands as a symbol of the profound losses suffered due to war. But it is also a place filled with dreams, aspirations, and the unbreakable spirit of its people.
By contributing to the Albany-Bucha Rebuilding Initiative, you are not just donating; you are investing in the future of Bucha and its resilient people.
Albany-Bucha is not just a campaign; it's a movement driven by compassion, unity, and the shared belief that together, we can make a difference. Your donation, no matter how big or small, will have a profound impact on the lives of Bucha's residents.
Join us in rewriting the narrative of Bucha, a story of resilience, rebuilding, and hope. Your donation today can be a guiding light for Bucha as it embarks on a path to healing and renewal.
---